Dr. Hal Furr | NC's Chiropractic Community Mourns One Of Its Best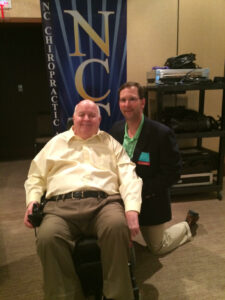 A Giant In NC's Chiropractic Community
Hal Eugene Furr, 85, of Salisbury, passed away Sunday, July 24, 2022 at Trinity Oaks.
Hal's philosophy of life was filled with the energy and purpose that every day should be lived as if it were your last. Born June 4, 1937 in Concord, NC he was a son of the late K.C. Furr and Pearl Atwell Furr. In addition to his parents, he was preceded in death by a brother, Kenneth Furr. He was a graduate of Concord High School and received his BS at Pfeiffer College, and worked as a public school teacher for several years. He obtained his Master's Degree from Appalachian State University, where he was a professor of psychology and met his wife, Montye Harris Furr. He later went on to Palmer College of Chiropractic in Iowa and then returned to Salisbury to own and operate his own chiropractic practice for 28 years. Hal further served as a consultant and motivational speaker for chiropractors nationally, even after retirement.
Hal had an entrepreneurial spirit and a great ability to connect with people, mentoring professionals and students alike. The legacy he leaves is his intellectual insight he shared on embracing life and living it to the fullest. A member of St. John's Lutheran Church, Hal's spirituality was ignited by his ability to minister to family and friends through his love of books and knowledge.
Throughout Hal's career he was honored with numerous outstanding service awards and professional distinctions. He was featured in the Digest of Chiropractic Economics, coauthored the book "Seven Steps to Chiropractic Success", and at the height of his career he was appointed by the NC Governor to the Health Advisory Committee. In 2015, he was awarded the Chiropractic Lifetime Achievement Award by the NC Chiropractic Association.
Left to cherish his loving memory are his wife, Montye Harris Furr who he married July 15, 1967; son, Bradley Alexander Furr (Julie) of Charlotte; daughter, Stacey Furr Wilson (Jeff) of Concord; and his grandchildren Lucy, Chloe, and Ryder Wilson and Kevin, Maggie and Tyler Haas.
A memorial service will be conducted on Saturday, July 30th at 11:00 am at St. John's Lutheran Church.