Drawing to be held at the Spring 2022 Convention
All Chiropractic Chiropractors Association members get free tickets when attending.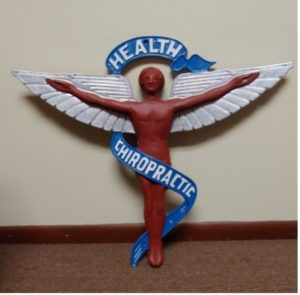 During the convention a drawing will be held for this nice 27 X 27 inch, 8 lb, outdoor, metal chiropractic emblem. This emblem will make an attractive "attention grabber" to any office whether displayed inside or out.
Refer a new member who completes the application and get two additional free tickets for each new member referred
All member pre-registrations received before the Spring Convention will receive 2 (two) free tickets for the drawing.
All members registering at the door will receive 1 (one) free ticket for the drawing.
Any new member since the fall Carolina Chiropractors convention who registers will receive 3 (three) free tickets for the drawing.
Any current member who refers a new member that completes the application process will receive an additional 2 (two ) free tickets for each new member referred.
All member dues must be current and up to date to be eligible to receive free tickets for the drawing.  Extra tickets may be purchased at the convention registration desk for $5.00 each.  Any income from ticket purchase will be donated to the Carolina Chiropractors association treasury.
There are currently no published Carolina Chiropractors events. Please contact us to inquire further.